Industrial Milk Production
Brazil is the third largest producer of cow milk in the world, behind the USA and India, yet still imports more dairy products than it exports. In 2017 Brazil produced 30 billion liters of milk and the number of milked cows was over 11.5 million, according to the IBGE Agricultural Census.
Sources: Annual figures of Milk 2019 Embrapa and Agricultural Census IBGE 2017
1. Genetic selection
Cattle breeds that are exploited today were genetically selected for their desirable characteristics in the dairy industry, such as greater milk production, reproductive efficiency and resistance to diseases. However, the same selection has caused several health problems with cows: laminitis (inflammation of the hooves), mastitis (inflammation of the udders), metabolic diseases (calcium deficiency and ketosis are the most common) and reduced longevity.
2. Use of additives
Bovine somatotropin (rBST) is a hormone commonly injected in cows to increase their milk production. There is scientific evidence that the use of this hormone is associated with reproductive disorders (such as cysts in the ovaries), mastitis, digestive disorders (indigestion, gas and diarrhea) and locomotor problems (laminitis and hock injuries). This hormone is prohibited in the European Union and Canada.
3. Disposal of male calves
Male calves, as they are not used directly in the dairy industry, are either disposed or sold to the meat industry (as veal or adult beef after fattening).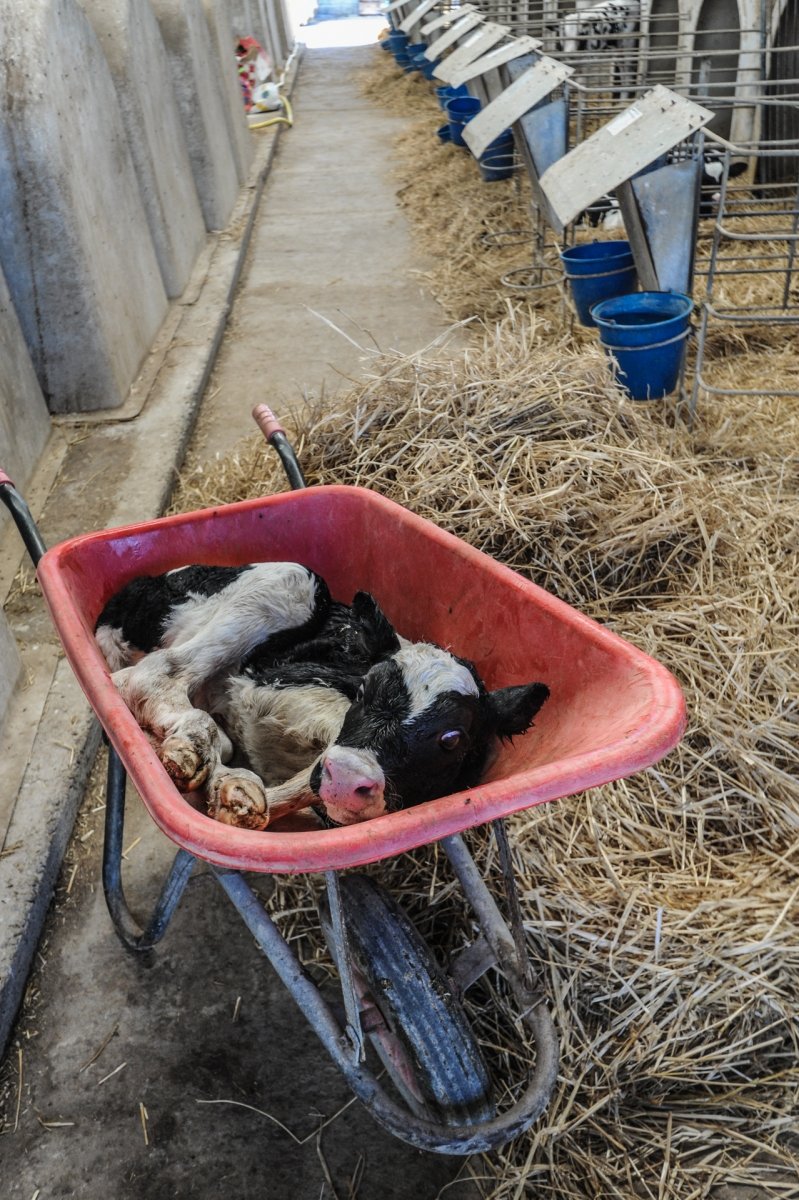 4. Mutilations and other painful procedures
Marking animals for identification, tail trimming, castrating calves and dehorning are often painful procedures.
5. Intensive systems
Although small scale production is common in Brazil, there are farms that adopt intensive or semi-intensive industrial livestock practices, housing cows in barns. They are often crowded, dirty, uncomfortable and without enrichment of the living environment.
THE NATURAL LIFESPAN OF A DAIRY COW IS 15-20 YEARS, BUT DUE TO THE INCESSANT CYCLE OF FORCED REPRODUCTION, COWS ON DAIRY FARMS LIVE AROUND 4 YEARS
Proposals for Improvement
Require breeds with less health disorders
Ban the use of hormones and additives that increase production
Apply sexing techniques or avoid the disposal of healthy male calves
Provide processes and techniques that cause less suffering
Reduce the density of animals in barns
Provide enrichment of the living environment
Acquire certification on animal welfare
Commitments
Various food companies that use products of animal origin, such as eggs and pork, have made public commitments to adopt animal welfare measures in their production chain. See what these commitments are.