Industrial pork production
Problems during the process
High number of animals stocked together and insufficient ventilation can cause respiratory diseases.
Diseases of the digestive and urinary systems due to insufficient nutrition.
Risk of epidemics and pandemics, such as swine flu and foot-and-mouth disease.
Violent clipping of teeth, tails and ears, and agonizing death.
Behavioral disorders, like biting of tails or ears, due to frustrating environments can cause injuries and even death.
Heat stress: genetic selection has made pigs more sensitive to heat and sunlight.
Mental health: nothing interesting to do on the farm. Pigs are curious creatures.
Most pigs are raised on large farms.
The stages of raising pigs: reproduction, pregnancy, maternity, fattening and slaughter.
There are farms that carry out all stages at the same place, while in others it is spread over different locations, necessitating transportation of the pigs.
THE PRODUCTION OF PORK CONSUMES AROUND 6000 LITERS OF WATER PER KILO OF MEAT.
FONTE: Water Footprint Network
The duration of the phases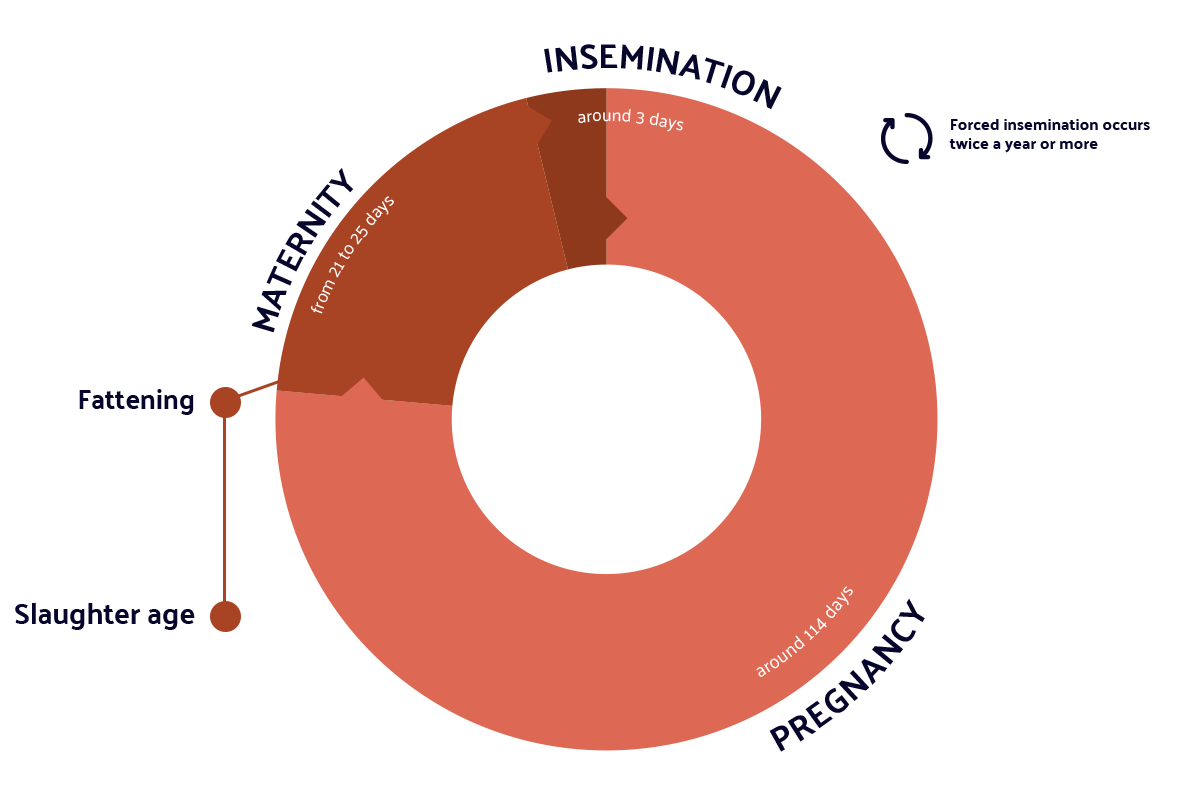 GESTATION CRATES HAVE BEEN PROHIBITED BY MEMBER COUNTRIES OF THE EUROPEAN UNION (SINCE 2013), NEW ZEALAND (SINCE 2015 BY THE INDUSTRY), THE UNITED KINGDOM, SWITZERLAND, NORWAY, AND EIGHT STATES IN THE USA (CALIFORNIA, OREGON).
PRODUCER ASSOCIATIONS IN SOUTH AFRICA AND AUSTRALIA HAVE COMMITTED TO ABANDON THEM (SINCE 2017).
CANADA CAN ONLY INVEST IN NEW COLLECTIVE FACILITIES.
Commitments

Various food companies that use products of animal origin, such as eggs and pork, have made public commitments to adopt animal welfare measures in their production chain. See what these commitments are.