Industrial pork production
Problems during the process
High number of animals stocked together and insufficient ventilation can cause respiratory diseases.
Diseases of the digestive and urinary systems due to insufficient nutrition.
Risk of epidemics and pandemics, such as swine flu and foot-and-mouth disease.
Violent clipping of teeth, tails and ears, and agonizing death.
Behavioral disorders, like biting of tails or ears, due to frustrating environments can cause injuries and even death.
Heat stress: genetic selection has made pigs more sensitive to heat and sunlight.
Mental health: nothing interesting to do on the farm. Pigs are curious creatures.
Most pigs are raised on large farms.
The stages of raising pigs: reproduction, pregnancy, maternity, fattening and slaughter.
There are farms that carry out all stages at the same place, while in others it is spread over different locations, necessitating transportation of the pigs.
THE PRODUCTION OF PORK CONSUMES AROUND 6000 LITERS OF WATER PER KILO OF MEAT.
FONTE: Water Footprint Network
The duration of the phases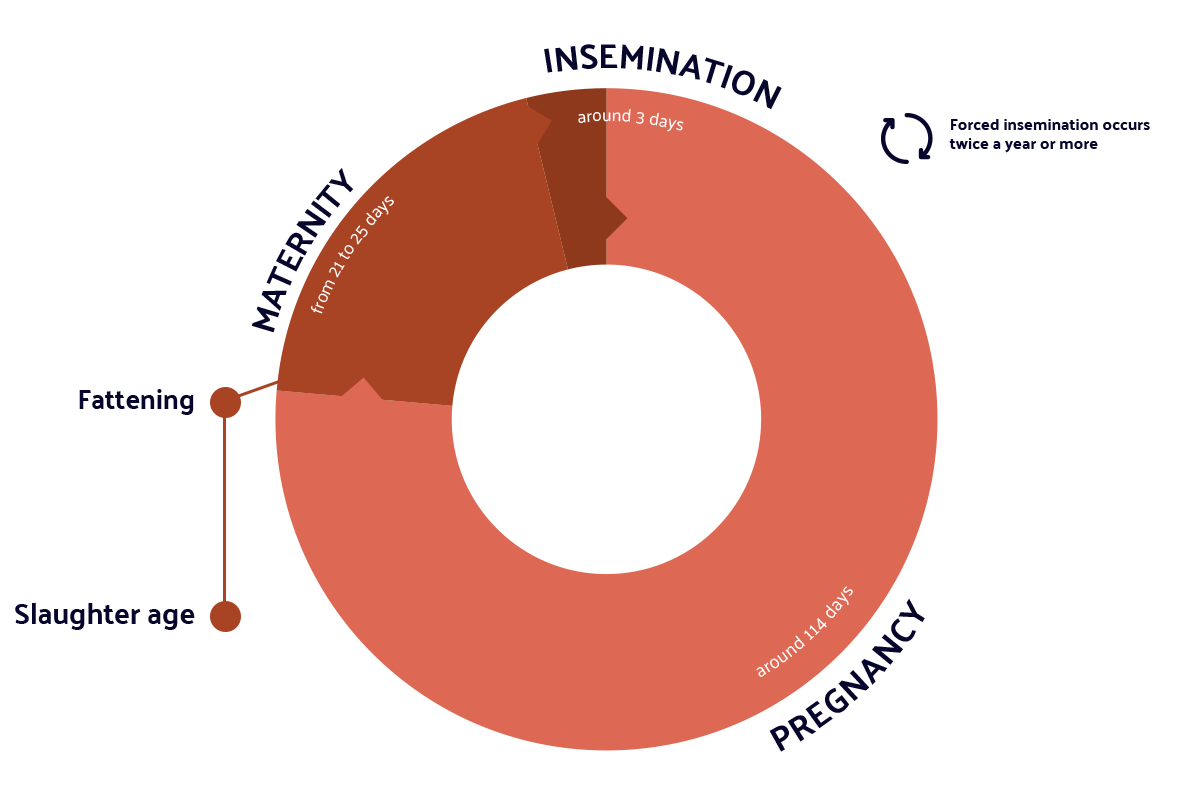 Sows that are used for breeding are kept in individual crates at this stage. A less cruel option is collective pens.
The gestation phase lasts around 114 days (around 16 weeks).
The crates are individual, made of metal and usually have a floor of bars.
Gestation areas can have two zones: one for reproduction where the sows are inseminated, usually artificially, and another in which the sows pass the period of pregnancy until about 2 to 5 days before giving birth.
Semen is usually purchased from swine gene companies that select boars for their semen.
Individual crates, narrow and barely larger than the animals themselves.
Sows are deprived of any exercise. They can hardly move.
They cannot turn around or even change position from lying to standing up.
Lack of space is detrimental to their muscles, joints, bones and health in general.
They may suffer from diseases such as lameness and cardiovascular problems, among other complications.
Skin injuries resulting from contact with the tight bars are frequent.
They are deprived of social contact, which can cause extreme boredom and distress.
Although they are still common in the world, the use of these gestation crates has already been restricted (up to 28 days after insemination) in the European Union since 2013 and banned in New Zealand, Switzerland and Norway.
GESTATION CRATES HAVE BEEN PROHIBITED BY MEMBER COUNTRIES OF THE EUROPEAN UNION (SINCE 2013), NEW ZEALAND (SINCE 2015 BY THE INDUSTRY), THE UNITED KINGDOM, SWITZERLAND, NORWAY, AND EIGHT STATES IN THE USA (CALIFORNIA, OREGON).
PRODUCER ASSOCIATIONS IN SOUTH AFRICA AND AUSTRALIA HAVE COMMITTED TO ABANDON THEM (SINCE 2017).
CANADA CAN ONLY INVEST IN NEW COLLECTIVE FACILITIES.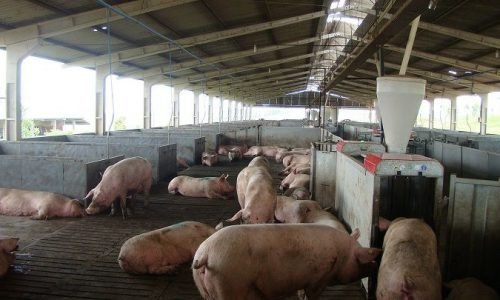 In groups the pigs do not suffer as much from boredom and lack of interaction.
They can move around a little more.
There is still suffering and frustration.
Crowded and discouraging environment.
Fights among sows are common, usually over resources as food and space.
Animals can be injured, suffer from stress and still not get adequate food, resulting in hunger.
Before giving birth, the sows are moved from the gestation crates to farrowing crates, where there is a space for the newborn piglets.
Violence is generally involved when changing crates.
In farrowing crates, the sows can accidentally crush their piglets.
To prevent this, the crates are designed in a way that the sows cannot move or turn. Nonetheless, crushing is still the main cause of death for piglets.
The floor is made of bars, with the exception of the piglet area.
Piglets live in these crates until they are weaned, which occurs in around 21 to 25 days. Then they proceed to the fattening phase.
Piglets would normally spend several months with their mothers.
After finishing weaning, the sows are moved to the breeding area, where they are inseminated again.
Sows can give birth more than twice a year.
This cycle only ends when they are sent to the slaughterhouse, which occurs when they are around three years old.
In a natural life cycle, a pig can reach the age of 15 years or more. Their life expectancy is similar to that of dogs.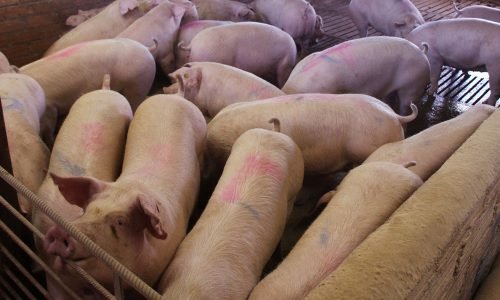 In this area weaned piglets gain weight before being taken to the slaughter area.
The vast majority of the animals lives in barns, with no access to outside areas.
Some are in a concrete environment, while a minority has access to straw.
If they are intended for the production of piglet meat, they are killed when they are less than four months old. In the case if pork production, they are around seven months.
Commitments

Various food companies that use products of animal origin, such as eggs and pork, have made public commitments to adopt animal welfare measures in their production chain. See what these commitments are.